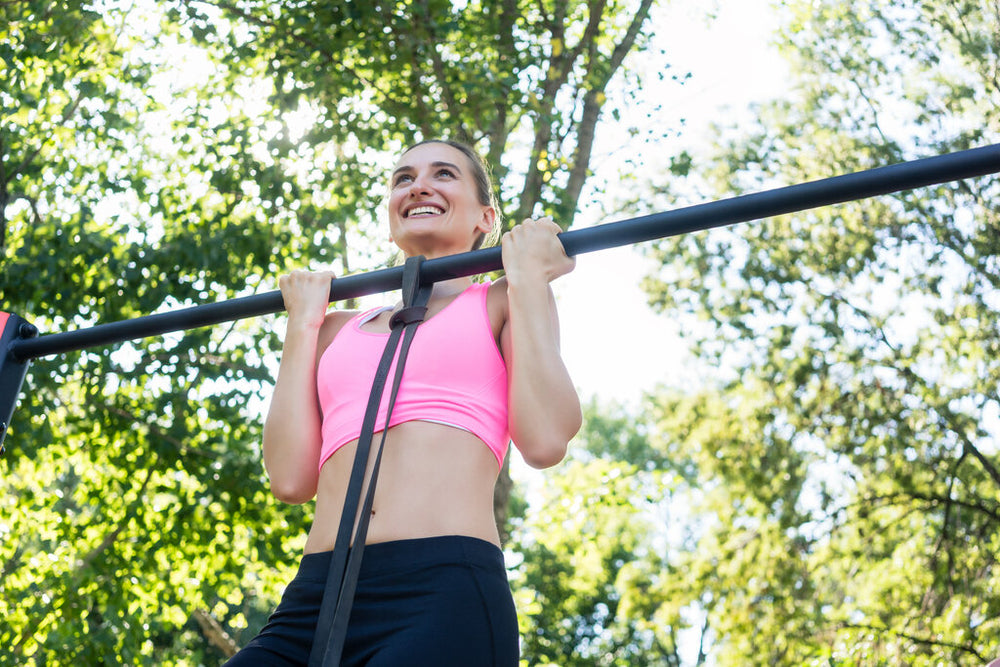 An upper-lower split is a comprehensive and proven way to train both your upper body and your lower body. For bodybuilders, strength trainers, and anyone else trying to put on a bit of muscle with a dedicated weekly routine, this is one of the simplest and most effective forms of split training you can start practicing.
An upper-lower routine simply splits your training into two distinctive workouts. You work out your upper body muscle groups or your lower body muscle groups on specific days. It helps to build even, full-body muscle coverage, for a lean and natural look, as no one area becomes overemphasized.
Upper-lower splits offer a convenient yet variable schedule, and there's lots of space for change when picking days off or choosing exercises. You can work out at a formal gym, or you can stay at home and gain strength using bodyweight exercises and pull up bands!
Today, we explore the benefits of an upper and lower body split before demonstrating the ultimate resistance band upper-lower split!
What is an upper-lower split routine?
Upper lower split routines split your workout schedule to focus on either the upper body or the lower body on any given training day. For example, Monday is upper body day, where you only focus on upper body exercises. Then Tuesday will be lower body day, where you only focus on lower body exercises.
The split allows you to target major muscle groups in each session, giving you excellent and even coverage.
For example, upper body day would target the following major muscle groups:
Chest
Back
Shoulders
Triceps/Biceps
Then on a lower body workout day, you would target the following:
Quads
Hamstrings
Calves
Core
The split is simple and doesn't need to be entirely rigid. For example, you can train your core on upper body day, or you could switch your lower back exercises from upper-body day to lower-body day. Within each workout session, you can build your specific strength training circuits using your favorite exercises and equipment (you'll find a week-long resistance band routine further along in this article).
Train for as few or as many days as you like each week, but as we'll explain, there are advantages and disadvantages to your potential scheduling patterns. You need to optimize your training time and intersperse your week with an adequate number of rest days to optimize muscle growth and recovery.
Two-day upper-lower split
At a minimum, you need at least two training days per week—one day for an upper-body workout plan, and one day for a lower-body workout plan.
A basic two-day split would look like this:
Monday: Rest day
Tuesday: Upper body
Wednesday: Rest day
Thursday: Rest Day
Friday: Leg day
Saturday: Rest day
Sunday: Rest day
A two-day split only really works if you're a beginner, recovering from an injury, or using this to complement other major forms of training; for example, you might spend most of your week training for a marathon, rather than trying to build huge amounts of muscle. If your ultimate goal is to pack on lots of muscle mass, then you need more than two training days.
Four-day upper/lower split
A four-day training split would look like this:
Week 1
Monday: Upper body
Tuesday: Rest day
Wednesday: Lower body
Thursday: Rest Day
Friday: Upper body
Saturday: Rest day
Sunday: Lower body
Week 2
Monday: Rest day
Tuesday: Upper body
Wednesday: Rest day
Thursday: Lower body
Friday: Rest day
Saturday: Upper body
Sunday: Rest day
A four-day split essentially means working out every other day. You plan out a rest day between each training session and plenty of time before you hit your chest again later on in the week. As you can see, more training days start to complicate the schedule, as you need to spread the above routines over two weeks to allow for an on/off system.
You don't have to do this, however, as you can have workout sessions back to back. This can help you better plan your week and save more time on the weekend for non-gym related activities. For example:
Monday: Upper body
Tuesday: Lower body
Wednesday: Rest day
Thursday: Upper body
Friday: Lower body
Saturday: Rest day
Sunday: Rest day
You still have plenty of recovery time, and you get the whole weekend off each week. No schedule is set in stone, and the great thing about upper-lower splits is how you can tailor them to meet your needs rather than building your life around the exercises.
For beginners, we'd suggest starting with a two-day split, then moving onto a four-day. As you become fitter and more experienced, you can then try out more intense five or even six-day upper-lower splits, but don't rush into these. They take both time and commitment to be beneficial.
What are the benefits of an upper-lower split routine?
There are plenty of benefits to upper-lower split routines. The important thing is that you need to be working out each muscle grouping at least twice a week for it to be effective at building muscle. Your muscles need at least two or three full days to recover from their training, so a four-day split allows you to optimize your recovery. For example, work out your upper body on Monday, then rest for two days and hit it again Thursday (with your leg workout on Tuesday).
This optimization allows you to maximize what we call hypertrophy. This refers to the increase in muscle size and mass. Your body increases muscle mass by tearing muscles, then repairing muscles. An upper-lower split allows you to add in more exercises while also providing ample time for repair and growth!
Other advantages and benefits of the upper-lower split include the amount of variation that's possible, such as different exercises, different equipment, and different schedules each week.
Of course, the most significant benefit is the ability to build muscle in both your upper and lower body. You aren't left with any oversized body parts, as you focus on all the essential groupings!
Upper-lower splits vs full-body splits
Upper-lower splits allow you to nicely divide your week into upper or lower workout days, that are fully optimized for recovery time. Upper-lower splits are often suggested as an alternative to full-body workouts. Full-body workouts have you exercising both upper and lower body groups on the same day. This takes more timing and experience to get right and often leads to less recovery time.
Upper-lower splits are seen as more effective than full-body workouts because they give you a chance for added recovery and muscle growth while providing a much simpler training pattern. That being said, full-body workouts are often more intense, especially when split over five or six days, and can be a better way to build muscle faster, as long as you don't injure yourself in the process!
Upper-lower split with resistance bands routine
There are lots of upper-lower splits that take you to the gym or use free weights, but you can also create intense resistance band routines focusing on upper-lower splits throughout the week.
Resistance bands are great for targeting specific muscles, helping you to avoid injuries, and for building muscle. They are also easy to carry around, and you can practice your routines at home, the gym, or the park (if it's a sunny day, of course!).
Here's our sample four day upper-lower split with resistance bands. Remember to stretch off before and after each workout.
Weekly schedule
Monday: Upper body
Tuesday: Lower body
Wednesday: Rest day
Thursday: Upper body
Friday: Lower body
Saturday: Rest day
Sunday: Rest day
Upper body workout
Perform a minimum of 3 sets each training session
Banded push-ups x 15
Banded bicep curls x 15
Banded chest press x 12
Bent over rows x 12
Banded shoulder press x 12
Banded bicep curls x 15
Triceps extension x 12
Band assisted pull-ups x 12
Lower body workout
Perform a minimum of 3 sets each training session
Lateral steps with band x 60 seconds
Standing leg extensions x 12
Banded leg press x 12
Banded leg curls x 12
Standing calf raises x 12
Banded squats x 12
Banded glute bridges x 12
Crunches until failure
You can add in your favorite exercises and movements to these routines as well. If the exercises are too difficult with a resistance band, try them using your bodyweight first. If they are too easy, then swap your current resistance band for a stronger band, allowing you to work out against increased resistance.
These aren't HIIT sessions, but you still need to be working out at a fairly intense level. Each workout should take around an hour, giving you rest time between exercises and between sets. If you finish early, add in an extra set at the end at high intensity for a killer finish.
The last word on upper-lower split workouts
Upper lower splits are a simple yet effective way to pack on muscle for a natural, lean look rather than an artificial, bodybuilder look. While you can schedule as little as one upper- and one lower-body workout a week, the real benefits of the upper-lower split workout are only realized when you start to train.
That way, you maximize hypertrophy, giving your muscles optimal workout time each week and plenty of recovery before you hit them hard again. You can train at home with resistance bands or with weight machines at the gym; this routine really can be tailored to any strength training needs!
Will you be scheduling upper-lower splits into your workout this week? Why not bookmark our sample resistance band routine for when you're ready to get started!